Story by Spc. Precious Scott 343rd Mobile Public Affairs Detachement.
FORT CAVAZOS, TEXAS – Carl R. Darnall Army Medical Center hosts the Joint Emergency Medicine Exercise on Fort Cavazos June 4-9.
JEMX provides both U.S. servicemembers and multinational forces with the training to achieve combat medical excellence.
After the welcome presentation from Troop Battalion Commander Lt. Col. Jody Shipley, notable speakers shared their medical knowledge and experience, emphasizing how mindset is a huge factor in the medical field.
"Your mentality, what you focus on, can directly affect everyone around you," said Derek Bailey, a motivational speaker.
This is important in the context of the medical field because to provide proper care one has to remain calm, expressed Bailey.
As the exercise continues, trainees will go through combat scenarios that are meant to be simulations of what could happen on the battlefield.
U.S. Army Cpt. Vanessa (Sieg) Hannick, Emergency Medical Specialist, expressed that being well-versed in Tactical Combat Casualty Care is essential if demanding situations arise.
"Even if you're stuck in the motor pool, even if you're stuck in the clinic and you're not doing trauma care, you have to keep practicing until you are truly prepared to provide effective care on the battlefield, or help others to provide effective care on the thousands of patients in the hospital," said Hannick.
Other speakers included Mrs. Elizabeth Baliey, wife of Derek Bailey, who spoke from the perspective of the families who are impacted by the life-saving procedure administered by medical professionals.
Lt. Col. Daniel Brillhart, CRDAMC Physician, discussed the impact of prolonged Casualty Care on mission effectiveness.
The JEMX, with an approximate attendance of 200 trainees and many trainers, consists of didactic classroom instruction, practical training in Tactical Combat Casualty Care, damage control resuscitation/surgery, care of Military Working Dogs, autologous fresh whole blood transfusion, burn management, and Critical Care Air Transport Team capabilities.
The multinational force represents over 60 medical specialties from the U.S. Military and participants from NATO partners. The training is designed to increase combat readiness and enhance medical excellence.
Derek Bailey, a native of Culpeper, Virginia, speaks on the impact medical professionals had on saving his life while injured overseas, to multinational forces participating in the Joint Emergency Medicine Exercise 2023 at Fort Cavazos, Texas, June 5, 2023. Joint Emergency Medicine Exercise 2023 (JMEX-23) is a multinational training event for partnership in medical excellence where all trainees receive professional classroom instruction along with practical training in Tactical Combat Casualty Care (TCCC), damage control resuscitation/surgery, care of Military Working Dogs (MWD), autologous fresh whole blood transfusion, burn management, and Critical Care Air Transport Team (CCATT) capabilities. (U.S. Army Reserve photo by Spc. Andrew Mendoza)
Royal Netherlands Army Sgt. Maj. Ruben Hondeman, a Dutch nurse with the 11th Geneeskundige Company (left), and a fellow soldier receives practical application of prolonged casualty care training at Fort Cavazos, TX, June 5, 2023. Joint Emergency Medicine Exercise 2023 (JMEX-23) is a multinational training event for partnership in medical excellence where all trainees receive professional classroom instruction along with practical training in Tactical Combat Casualty Care (TCCC), damage control resuscitation/surgery, care of Military Working Dogs (MWD), autologous fresh whole blood transfusion, burn management, and Critical Care Air Transport Team (CCATT) capabilities. (U.S. Army Reserve photo by Spc. Andrew Mendoza)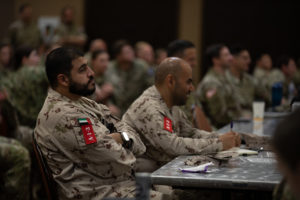 United Arab Emirates soldiers listen to several speakers give lectures focused on multiple topics at Fort Cavazos, TX, June 5, 2023, in preparation for tactical lane training during the Joint Emergency Medicine Exercise 2023. Joint Emergency Medicine Exercise 2023 (JMEX-23) is a multinational training event for partnership in medical excellence where all trainees receive professional classroom instruction along with practical training in Tactical Combat Casualty Care (TCCC), damage control resuscitation/surgery, care of Military Working Dogs (MWD), autologous fresh whole blood transfusion, burn management, and Critical Care Air Transport Team (CCATT) capabilities. (U.S. Army Reserve photo by Spc. Andrew Mendoza)