Story by U.S. Army Sgt. Darrell Stembridge
"This is what we really look forward to," Spc. Cary Anderson, lead drummer, 1st Cavalry Division Band, said. "We get to come out here and play during a beautiful evening when the sun is down, and everyone who supports us are excited to hear some music."
The 1st Cavalry Division Band performed so well last summer in Fort Worth at the Texas Motor Speedway; they were invited to perform at the COTA event, this year, in Austin. The 1st Cavalry Division Band strives to help build community relations around the world, no matter who they perform for.
"It's always good to put a smile on the people's faces within the community," Staff Sgt. Chad Tucker, lead saxophonist, 1st Cavalry Division Band, said. "The relationship we build with the community is very important to us here at the 1st Cavalry Division Band."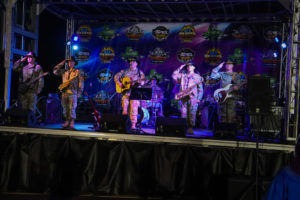 COTA is the premier destination for world-class motorsports and entertainment in the United States. Set on 1,500 acres in the rolling hills just outside downtown Austin, Circuit of The Americas has hosted the biggest names in racing, action sports and music since 2012.
"I've been working for Speedway Motorsports for 7 years," Kayla Ochocki, director of guest services, COTA, said. "I oversee anything that is of fan assistance, and I was super excited to find the 1st Cavalry Division Band, to help bring entertainment for the guest at The Camper Party."
"There's never a dull moment when a rock band is present," Ochocki, said. "We are in the business of having fun and creating memories for other people and there's nothing like it."
The 1st Cavalry Division Band had the crowd's attention throughout the entire length, covering hits like "Would you go with me" by Josh Turner, "Life is a Highway" by Rascal Flatts to "Chicken Fried" by Zac Brown Band during The Camper Party.
"I love the emotion behind their music," Jacob Sanders, COTA fan, said. "I like them because they were very authentic with their delivery."