By Michael M. Novogradac, U.S. Army Operational Test Command Public Affairs
FLORENCE, Texas – As part of Red Ribbon Week, middle school students here learned Tuesday how alcohol and drugs can affect their bodies, along with troubles they may find with the law.
The Fort Hood (Now designated Fort Cavazos), Texas Army Substance Abuse Program (ASAP) teamed with U.S. Army Operational Test Command (USAOTC) Soldiers to show kids the consequences of substance abuse as part of the post's Adopt-A-School Program.
"The younger they are when we catch them is what is going to make a difference later on in life," said Carl Smith, ASAP coordinator. "We get kids that are 17- and 18-year-olds — and even 19-year-old Soldiers — who have already formed habits."
"This is where the habits start," he said of the youngsters.
Smith's connection with the children started with a conversation about a famous rap artist's problems overcoming substance abuse.
Students then took turns behind the wheel of a computerized driving simulator, complete with turn signals, gas and brake pedals, while wearing goggles mimicking effects of either alcohol, THC, or ecstasy.
The cafeteria quickly erupted with child laughter as most drove only a few feet before hitting a curb or running a stop sign.
Laughter subsided just as fast as it began when police lights and sirens went off, and an officer asked for driver's license and registration, followed by a pretend breathalyzer.
Students then moved outside for more drive time with go-karts on a coned-off course with simulated pedestrians.
Florence ISD Middle School Counselor Mary Harlan was thrilled by the Soldier and ASAP coordinator visit.
"These two displays they've brought and set up and run today are so kid-friendly," she said.
Harlan explained that Red Ribbon week began in 1985 in response to Drug Enforcement Administration Agent Enrique Camarena's murder, when he was tortured and killed in Mexico. In his honor, memory, and to battle illegal drug use, his friends and neighbors wore red satin badges to mobilize community efforts.
"We're always looking for creative new ways to talk about drug awareness, and I thought this was great because it was way different than somebody just standing up there, talking about all the different drugs of the world and how not to use them," Harlan added.
"They get the message! And those little vehicles? That's brilliant. This is one of the best things I've ever seen aimed at middle school kids."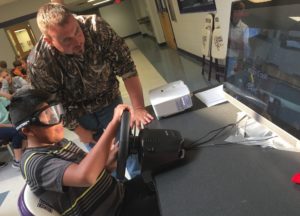 One Soldier volunteer said he's missed out on opportunities with his own high-schoolers – age 15 and 18 – due to about four years of deployments.
"I haven't had the time to spend with my own children," said Staff Sgt. Nicholas D. Duffield, an operations NCO with USAOTC's Headquarters Company.
"So, I thought it was a prime opportunity to do some positive role modeling," he added. "You get involved with them at a younger age, teaching them right from wrong, and it helps to foster greater maturity levels as they get older. It breaks down the amount of adolescent problems we have by the time they reach high school level."
Fort Hood (Now designated Fort Cavazos) ASAP coordinators like Smith will continue visiting area middle schools through fall, and also have pre-prom high school visits scheduled for the spring.
~~
Testing and assessing Army, Joint, and Multi-service warfighting systems in realistic operational environments, USAOTC uses typical Soldiers to determine whether the systems are effective, suitable, and survivable. USAOTC is the Army's only independent operational tester, required by public law to test major systems before they are fielded to its ultimate customer — the American Soldier.