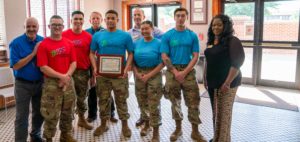 KILLEEN, Texas — The Fort Hood (Now designated Fort Cavazos) Better Opportunity for Single Soldiers program received recognition April 11 for its community service efforts during a Killeen City Council meeting here.
The program's goal is to improve the quality of life for single Soldiers stationed at Fort Hood (Now designated Fort Cavazos), and in partnership with the city of Killeen, they recently worked to beautify the historic downtown area by picking up trash along the streets.
The mayor praised the BOSS members for their dedication and commitment to enhancing the city. Killeen Mayor Debbie Nash-King expressed gratitude for the program's work.
"We are grateful for the BOSS program and the work they have done to make Killeen a better place to live," she stated.
The BOSS program has been active since 1989 and encourages Soldiers to participate in community service projects while providing a platform to voice their concerns. The recent recognition of the program's efforts serves as a reminder of the positive impact community involvement can have on individuals and neighborhoods.
"We are proud of the BOSS program's efforts to care for our Soldiers, develop leaders and build teams," Nash-King said, standing in front of those in attendance at the city council meeting.
Former BOSS President Spc. Dallas Parker expressed his appreciation for the program's support from the surrounding communities.
"I knew one thing to be true, the support that we get from the surrounding communities is truly amazing," Parker said. "So, when this opportunity arose for us to pay it forward and to help the city of Killeen and keep it cleaned up, I saw no hesitation."
Parker's remarks highlight the mutual benefit of community service, as the BOSS program and the city of Killeen worked together to enhance the downtown area. The success of their partnership serves as a testament to the power of collaboration and community involvement in making a positive impact.
"We want to make sure that not only Fort Hood (Now designated Fort Cavazos), but Killeen and the surrounding area is as great as it can be," Parker added.
Sgt. Jasmine Tcha, the current president of the BOSS program on Fort Hood (Now designated Fort Cavazos), also expressed her appreciation for the opportunity to perform community service in the city where they are stationed.
"When this opportunity was brought to us, I was actually very grateful that we got to do community service within our city," Tcha said. "I thought it was a great opportunity for single Soldiers or just all Soldiers because this is not just the city that our installation is in it's also our city."
Tcha's comments further emphasize the importance of community involvement and its positive impact on individuals and neighborhoods. By working together to beautify the city, the BOSS program and the city of Killeen strengthened their partnership and enhanced the community.
Tcha concluded, "I'm just really glad that we'll keep being able to go forward and keep beautifying the area."