Story by U.S. Army Sgt. Darrell Stembridge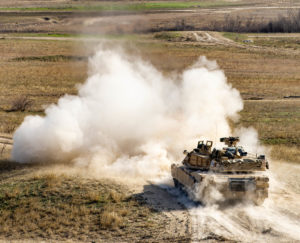 Tank Crews assigned to 1st Armored Brigade Combat Team, 1st Cavalry Division, conducted Table VI gunnery from Feb. 23 to March. 13 at Fort Hood (Now designated Fort Cavazos), Texas.
Table VI is also classified as the "gate to live fire." Qualifying individual crews in Table VI enables those crews to safely participate in the higher echelon live-fire exercises at the section and platoon levels. Table VI is the final table in certifying a tank crew during gunnery, but the path to table VI involves a tremendous amount of planning, training, and collective tasks in a live fire environment, in order to deploy, fight and win whenever called upon.
"Table I-IV are a foundation for crew qualification and include learning fire commands, conducting dry-fire rehearsals, weapons familiarizations, bore sighting and live-fire zeroing the main gun." 1st Lt. Nathaniel Tucek, fire direction officer, 2nd Battalion 5th Cavalry Regiment, said. "When we get to our table VI, we have external valuators so there's no conflict of interest from having anybody in the company evaluating us."
Mission readiness and lethality will always remain a top priority for the Army and the First Team. Qualification for gunnery happens about every six months, ensuring each battery, from the loader to the fire direction officer, is trained and ready to respond with lethal and accurate force.
"As a 19 Series, the main thing we are in charge of is our platform and when we go out there, we want to make sure we are competent, proficient and lethal on those platforms" Tucek, added.
A Tank crew consist of four positions: tank commander, gunner, loader, and driver. The table of organization determines the ranks held by each of those positions. Overall, the Troopers are preparing for long distance fights and keeping the enemy contained.
"We have to make sure we are proficient at what we do," Sgt. Alex Ceja, fire direction specialist, 2-5 Cav, said. "As a fire mission is received, each crew member has a job, such as the driver moving up and down, the loader has to load the rounds, and the gunner has to be able to identify their targets."
This training exercise builds trust as well as team cohesion and tests their ability to process fire missions by engaging targets in unique situations ensuring crew members of each battery are certified and mission ready for future rotations or deployments.
"When we go through our after-action review, leaders will discuss are engagement score cards" Tucek, said. "Any improvements on our overall engagements throughout the exercise advances our future for mission readiness."
Troopers spend time studying for their next gunnery table, delving into various field manuals, advanced tactical planners, and Federal Tank Administration regulations. All crews participate in after-action reviews for each table, allowing them to evaluate the success of the scenario and provide feedback.
"Our AAR went pretty well," Ceja, added. "We qualified 5 out of 6 engagements and most of them were in the high 90's."
Troopers finished the gunnery table proud and motivated as the Battalion and Brigade looks forward to a rotation at the National Training Center, this summer.
"We scored a 535 and shot 5 out of 6 engagements," Spc. Mark Carrillo, tank loader, 2-5 Cav, said. "So far we have the highest score."