By Sgt. 1st Class Kelvin Ringold, 13th ESC Public Affairs Office
FORT HOOD (Now designated Fort Cavazos), Texas – Making people a number one priority is easy to say, but actions always speak volumes.  When the example is set from the top to emulate, positive change is reciprocated.
On Thursdays, the 13th Expeditionary Sustainment Command's Commanding General, Brig. Gen. Ronald R. Ragin, embarks on a five-mile mentorship ruck march with junior officers from around the command.
"We started these rucks last August," said aide-de-camp, 1st Lt. Jaryd Wolak, Headquarters and Headquarters Company, 13th ESC.  "It's a great opportunity for everyone to get a good physical readiness training session in and also get to talk to general Ragin on a personal level to get some one-on-one mentorship."
Since taking command in May 2020, Ragin has prioritized taking care of Soldiers and their families and has also emphasized the importance of physical readiness, and these events give him an opportunity to support both philosophies.
"It's about investing to me," Ragin said.  "Just like physical fitness is about investment, so is mentorship.  Every mile we do is another opportunity to help mentor the next generation of leaders."
After Ragin and the weekly rotating roster of junior officers complete the first mile, the staggered formation, one-by-one, takes turns speaking with the CG for the remainder of the ruck.
During each officer's time with Ragin, he asks them questions designed to give him an idea of who they are, where they're from, what drives them and what makes them who they are.
2nd Lt. Erin Flahrety, HHC, 13th ESC, commissioned in September 2020 and got to the unit in January.
After hearing expectations from friends and fellow service members across the force, this mentorship ruck was just what she needed as a young lieutenant.
"It's definitely uplifting," Flahrety said.  "You hear that field grade officers and above have plenty of things on their schedules, so things like this a lot of them supposedly don't make time for.  So it's nice we get face-time with someone as high up as the CG."
The sessions allow a vastly cultural and gender diverse group of junior officers the opportunity to speak on many important topics that affect the Army and nation.
During the ruck march on April 1, Ragin spoke with a lieutenant about the importance of today's youth seeing their gender, ethnicity or culture represented by someone in uniform.
"At the end of the day we need that diversity," Ragin explained.  "Somewhere there is a young girl that has aspirations like you.  We need you to be there to show her she can be where you're at."
Ragin credits his first platoon sergeant with helping shape him into the officer he became, which is a reason mentorship is so important to him.
"He taught me what right looks like in the Army," Ragin said.  "I need our sergeants to teach our lieutenants what right looks like as well."
The 13th ESC's Strong Sergeants Campaign entrusts noncommissioned officers to mentor and shape junior Soldiers.
"Sergeants work with younger Soldiers but also mentor young officers as well," said 1st Lt. Drake Nixon, Executive Officer, HHC, 13th ESC.  "So, they not only help officers excel but also Soldiers."
Sergeants are crucial because they have the most direct interactions and influence with junior Soldiers at the squad, section and platoon levels.
"If our sergeants are strong, then our lieutenants are going to be strong," Ragin explained.  "So, when I say strong sergeants, I mean Strong Soldiers!!"
At the end of the day, it is these new, young leaders who will command and influence the force.
"You're the future," Ragin explained.  "It starts with perfecting the fundamentals.  Make sure you build strong sergeants and hold them accountable to lead their troops.  What you do is hugely important to our success."
After another successful ruck march and mentoring sessions, Ragin urged his young leaders to stay focused, motivated and most importantly, to take care of their Soldiers.
"Keep leading your Soldiers one at a time," Ragin said.  "Every Soldier counts.  Stay positive and stay engaged.  I am super proud of every one of you.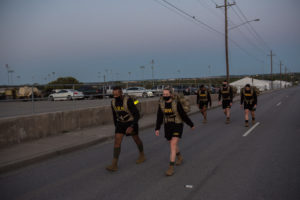 "