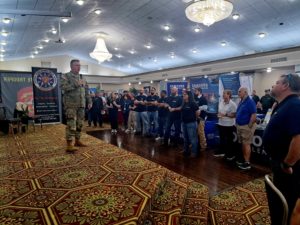 By Janecze Wright
Fort Hood (Now designated Fort Cavazos) Public Affairs
FORT HOOD (Now designated Fort Cavazos), Texas — Thousands of Soldiers, family members, veterans and members of the community gathered to connect with employers at the Mega Career Fair Jan. 10 at the Lone Star Convention Center here.
The Fort Hood (Now designated Fort Cavazos) Transition Assistance Program, which helps to prepare service members as they transition from military to civilian life, hosted the event to bridge the gap between employer and prospective employee.
Jerry Hernandez, marketing manager for TAP, explained that the TAP process can start as early as two years out from retirement, and the event was great resource to help service members start the process.
"No matter where you are in the (TAP) process as you get ready to transition out of the military … you have some that can be two years up in advance or some that are 30 days, we have employers here that are ready to hire," Hernandez said.
Nearly 200 employers crowded around the stage in the main ballroom before the start of the event to listen as Col. Chad R. Foster, U.S. Army Garrison-Fort Hood (Now designated Fort Cavazos) commander, encouraged them to open their arms to job seekers and be willing to take a chance on some of them.
"It's our soldiers that have been our credentials for however many years of service they have given to their country, they soon become your credentials, at your places of employment, at your businesses," Foster expressed.
"Find a way to get to yes on someone that you've got a good feeling about. Find a way to get to yes on someone that's here, putting themselves out there, and looking for that hand up, as they transition to that next phase in their lives. I don't think you're going to regret it if you do," Foster declared.
The event is the largest career fair in the Department of Defense with over 100,000 employment opportunities available to 3,500-5,000 attendees.
Employers from as far away as Canada were on hand to speak with job seekers, discuss their organizations and relay what they look for in a potential hire.
Workforce Solutions Panhandle was new to the event and eager to connect with job seekers.
"This provides us a great opportunity to really go out of our area and hopefully bring some really talented people back home with us," said Phillip Flores, Workforce Solutions Panhandle business services representative.
"This is the best opportunity that we have in order to get people with the skills that our employers are looking for," he added.
Soldiers, family members and veterans took full advantage of the opportunity to make lasting first impressions on representatives from local, state, national and international companies.
Sgt. Lakisha Miller, 20th Engineer Battalion, plans to transition in July 2024 after eight years of service to become an RN. She was thankful for the opportunity to speak with potential employers face to face.
"To be here, to get the information, to be able to understand the processes that we have to go through to transition to our next career, it's very important," she stated.
The event not only makes it convenient for Soldiers to meet with representatives from in-demand career fields, but it also provides a plethora of potential hires for companies to choose from.
"This makes it seem as the employers are competing with each other to get me, instead of me competing with all the other service members to get one of them," said Sgt. First Class Jason Smith, 36th Engineer Brigade. "So I don't have to sell myself, but they're going to sell themselves to me."
Smith transitions in about four months after 15 years of service and hoped the event would help him choose a civilian career field.
Larissa Spiller, manufacturing leadership recruiter at Tesla, said that service members have many of the skills required to be successful at her organization, making them prime recruits.
"We're always rolling with the punches, so we need people to have that flexibility, know how to jump in and do something that maybe is not really with their job title," she explained. "With military personnel, it's a big thing, that's part of your strategy, that's part of your training, so we definitely appreciate that and think that's one of the main qualities we need as well at Tesla."
This is one of several career fairs that happen throughout the year. Contact Fort Hood (Now designated Fort Cavazos) TAP at (254) 287-3513 for more information.
Broll of the Mega Career Fair. Login to DVIDS to see the high resolution download.