By Michael M. Novogradac, U.S. Army Operational Test Command Public Affairs
WEST FORT HOOD (Now designated Fort Cavazos), Texas — The unit charged with testing new gear for the Army held a preventive safety stand down here Aug. 30.
"The concentration on this day should be on off-duty accidents and injuries," said Reginald E. Jones, safety manager for the U.S. Army Operational Test Command.
During the morning, OTC's Soldiers and Army Civilian employees were taught about severe weather by the 3rd Weather Squadron.
"We all know a little bit about weather after this weekend," Jones said, referencing Hurricane Harvey, the first major hurricane to make landfall on the Texas and Louisiana Gulf coast since Wilma in 2005.
"Water can look like it is not moving and you don't realize there is a current under the surface," said Air Force Staff Sgt. Everett Eugenio, a 3rd Weather Squadron forecaster.
"Even if there is standing water that looks like only a foot, it's always advised to drive away from standing water."
Next up was a hearing conservation class and ear plug fittings for everybody by the Ear, Nose, and Throat Clinic at Carl R. Darnall Army Medical Center.
Lt. Col. Dan Ohama, clinic chief, told the story of a Soldier medically separated for hearing loss from just one trip to a weapon qualification range.
"Hearing loss is the foremost injury of military personnel," said Ohama.
He said it's too late when a hearing loss is discovered during an annual hearing test.
"Wearing proper hearing protection in the first place," he said, "is the only prevention."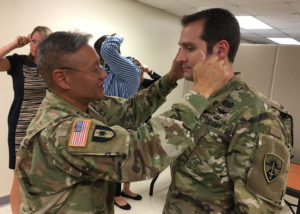 Wrapping up the morning was a class on traffic safety and distracted driving by Texas State Trooper Sgt. David Roberts, who shared the experience of his own child's harrowing distracted driver accident which required multiple surgeries and months of recuperation therapy.
"The State Trooper's personal testimony of his daughter's injuries as a result of a distracted driver was a powerful message that I think we can all take to heart," said Maj. Olin L. Walters, an Aviation test officer.
OTC's four Fort Hood (Now designated Fort Cavazos)-based test directorates spent the afternoon centered on a wide variety of safety topics such as water, personal weapons, sports activities, barbequing, smoke detectors in the home, and motorcycles, just to name a few.
Bill McKiernan, deputy of OTC's Maneuver Test Directorate, said the safety stand down allowed his team to talk about recurring safety issues observed while on test sites, both with test units and OTC test teams.
OTC's Chief of Staff Col. Ronald W. McNamara, said the safety stand down is important because of the command's testing mission.
"While testing ensures equipment is battle ready, both operational testers and Soldiers conducting tests are our most treasured resource," he said.
"Our safety stand down plays into that because we have to remain committed to providing the safest possible test environment for everyone involved."