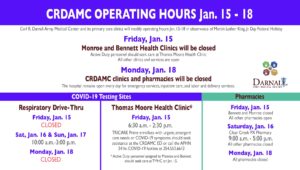 FORT HOOD (Now designated Fort Cavazos), Texas – Carl R. Darnall Army Medical Center, its primary care clinics, and COVID-19 testing sites will modify hours Jan. 15-18 in observance of the Dr. Martin Luther King, Jr. Day federal holiday. The hospital remains open every day for emergency services, inpatient care, and labor and delivery services.
Monroe and Bennett Health clinics will be closed Friday, Jan. 15.  Active Duty Service members enrolled to either of those clinics should seek care at Thomas Moore Health clinic.  All other clinics and services will be open.
COVID-19 Testing Sites
 Respiratory Drive -Thru Clinic
Friday, Jan. 15
Closed
Saturday, Jan. 16 & Sunday, Jan. 17
10 a.m. – 3 p.m.
Monday, Jan. 18
Closed
Thomas Moore Health Clinic COVID-19 Testing (AD only)
Friday, Jan. 15
6:30 a.m. – 2:30 p.m.
Sat., Jan. 16 – Mon, Jan. 18
Closed
Pharmacies
Friday, Jan. 15
Bennett and Monroe pharmacies will be closed
All other pharmacies normal operating hours
Saturday, Jan. 16
Clear Creek PX Pharmacy
9 a.m. – 5 p.m.
All other pharmacies closed
Monday, Jan. 18
All pharmacies closed
All CRDAMC clinics and pharmacies will resume normal operations on Tuesday, Jan. 19.
TRICARE Prime enrollees with urgent, emergent care needs or COVID-19 symptoms should seek assistant at the CRDAMC Emergency Department.
For questions or concerns about COVID-19, please call the 24 hr. APHN COVID-19 hotline at 254-553-6612.
The Nurse Advice Line is available 24/7 by calling (800) TRICARE or 1- 800- 874-2273, Option 1. Individuals living in the Fort Hood (Now designated Fort Cavazos) area entitled to military healthcare may talk to registered nurses about urgent health issues, guidance on non-emergency situations, and information about self-care for injuries or illnesses.
Beneficiaries can make or cancel appointments through TRICARE online at www.tricareonline.com or by calling Patient Appointment Service at 254-288-8888. At TRICARE online, you can make and cancel appointments as well as request, pharmacy refills, and access health information like laboratory results, radiology results, and immunization records.
– 30 –
For more information contact:
Carl R. Darnall Army Medical Center
Public Affairs Office
Mikaela T. Cade
Chief, Public Affairs
(254) 288-8005
(254) 338-6087
mikaela.t.cade.civ@mail.mil
Web site: darnall.tricare.mil