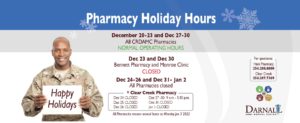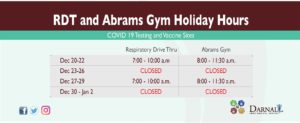 FORT HOOD (Now designated Fort Cavazos), Texas – The Carl R. Darnall Army Medical Center, its primary care clinics, and COVID-19 vaccination and testing sites will modify hours 20 Dec – 3 Jan., for the Holiday season. The hospital remains open every day for emergency services, inpatient care, and labor and delivery services.
COVID-19 Vaccination and Testing Sites
Abrams Gym
0800-11:30 Dec., 20-22 & Dec 27-29
Closed Dec., 23-26 and Dec., 30- Jan 2
Respiratory Drive -Thru Clinic
0700-1000 Dec., 20-22 & Dec 27-29
Closed Dec., 23-26 and Dec., & 30- Jan 2
Pharmacies are open Normal Operating Hours
Dec., 20-23 & Dec., 27-30
Monroe and Bennett pharmacies will be closed Dec., 23 and Dec., 30.
All pharmacies will be closed
Dec., 24-26 and Dec., 31- Jan., 2
All CRDAMC clinics and pharmacies will resume normal operations on Monday, Jan. 3, 2022.
TRICARE Prime enrollees with urgent, emergent care needs or COVID-19 symptoms should seek assistant at the CRDAMC Emergency Department.
For questions or concerns about COVID-19, please call the 24 hr. APHN COVID-19 hotline at 254-553-6612.
The Nurse Advice Line is available 24/7 by calling (800) TRICARE or 1- 800- 874-2273, Option 1. Individuals living in the Fort Hood (Now designated Fort Cavazos) area entitled to military healthcare may talk to registered nurses about urgent health issues, guidance on non-emergency situations, and information about self-care for injuries or illnesses.
Beneficiaries can make or cancel appointments through TRICARE online at www.tricareonline.com or by calling Patient Appointment Service at 254-288-8888. At TRICARE online, you can make and cancel appointments as well as request, pharmacy refills, and access health information like laboratory results, radiology results, and immunization records.
– 30 –