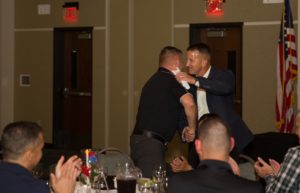 By Samantha Harms
Fort Cavazos Public Affairs
KILLEEN, Texas — Complex problems require community solutions.
This is a saying that Col. Chad R. Foster, the now-former U.S. Army Garrison-Fort Cavazos commander, said often throughout his tenure as the garrison commander.
Foster was often heard saying it throughout community engagements or amongst key leaders, including during his final community leader dinner July 6 at Central Texas College.
"I've talked to a lot of garrison commanders at other locations," Foster shared that evening. "Many of them have great support. But they do not have this; they do not have it to the level that we have, and the committed level we have here. This community is something special.
"… Sometimes, the best thing to do is, like General (Dwight D.) Eisenhower said, you got a really, really tough problem? Make the problem bigger," Foster continued. "Meaning that you bring people in to collaborate, to look for common solutions, common resources where you pull what you have, and go after a common objective. And that's what we have done day in, day out, right here at Fort Cavazos."
His mantra was echoed throughout all the sentiments shared.
Retired Col. Todd Fox, commissioner for the Texas Military Preparedness Commission and a former Fort Cavazos Garrison commander, spoke on behalf of the Heart of Texas Defense Alliance, an organization that was created in 2003 to promote the importance and sustainability of Fort Cavazos and all defense related industries, organizations and institutions.
The organization works closely with Fort Cavazos and community organizations to remind political leaders of the importance of the installation, and of the relationship that Fort Cavazos officials' have with the local community. Fox shared with the crowd just a few items that HOTDA, Fort Cavazos and the community have partnered on in the last few years.
HOTDA, in working with the Greater Killeen Chamber, organizes trips to Fort Irwin, California, so that community leaders can see first-hand Fort Cavazos units in action at the National Training Center.
In 2022, the city of Temple sponsored a request to expand the airfield solar micro grid, to include air traffic control ground operations and emergency services facilities to provide up to 14 days of electricity without resupply or repair; Texas provided $5 million toward that $14.5 million project.
Additionally in 2022, the city of Killeen sponsored requests to provide a backup power system for water control and improvement at District Number One that greatly improves the water resiliency at Fort Cavazos and in the local community; Texas provided $5 million toward $12 million project.
This year's Texas Legislators Day brought 115 staffers, seven state representatives and one state senator for a day of demonstrations and discussions with leaders at Fort Cavazos. This event provides elected officials and staff members the opportunity to build a better understanding of Fort Cavazos' officials' public policy priorities with respect to education and support of Fort Cavazos.
"I hope the legislative grant award examples I've shared tonight," Fox commented, "help all of us better understand and appreciate how effective and impactful a strong community with a cooperative and collaborative approach can improve the military value of Fort Cavazos and the quality of life of the men and women who live and serve here."
The more recent projects were credited to Foster and the efforts that he put in during his tenure by Fox and by Jim Reed, the executive director of the Central Texas Council of Governments.
"The Central Texas Council of Governments' mission is accomplishing together those things which you cannot accomplish alone on behalf of a region that is larger than six U.S. states, seven counties and 32 cities," Reed began. "… It's not enough too that COG has four divisions that serve Central Texas, you have to know and spend the time with those divisions to know how they can intersect with your mission. And I thank you for taking the time to do that.
"It's not enough to know that the COG helps more than 2,100 families with rental assistance and has kept 167 potential homeless veterans from being homeless through the voucher program," he continued. "It takes someone like (Chad) who would come to our housing symposium and talk about those intersections and that importance. … It's not enough that the COG knows how to staff and partner with (Central Texas) Workforce, Colonel Foster built relationships that resulted in career skills grants over $8 million dollars, the largest job fair in Texas through the Red, White and You program. … In other words, he understood that it's not enough to know tune, you have to know each other."
Foster took the time himself to highlight the deep love he has for the Central Texas community, especially through the projects that he collaborated on with local partners. This included the Military Value Program, a program which in hotels and apartment complexes offer temporary, fully furnished lodging for military families with flexible leases.
He shared that this program, like others, wouldn't have the success they do without the support of community.
"So, what I decided very early on (during my command), with the help of some really great people on our team, was I want to get out there and I want help get us back (to the pre-COVID relationship)," Foster shared. "I couldn't do it myself. I played a very small role in this. All I had to do was get out there and spend time with you. Hear what you had to say. Participate in what the community does and its activities. The rest just kind of took off on its own.
"And I think now at the end of two years as the garrison commander," he continued, "I can safely say that the relationship between Fort Cavazos and Central Texas — and I hate saying that because Fort Cavazos is just a part of Central Texas, we're not a separate community, we're an integrate part — those relationships, I really don't know if they've ever been stronger."