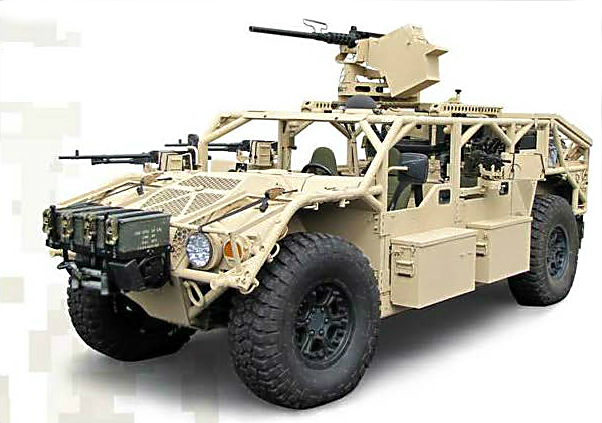 By Leon Price, Military Test Plans Anaylyst, Airborne and Special Operations Test Directorate, U.S. Army Operational Test Command Public Affairs
FORT BRAGG, N.C. — Testers at the U.S. Army Operational Test Command's (USAOTC) Airborne and Special Operations Test Directorate (ABNSOTD) here recently conducted low-velocity airdrops of the Ground Mobility Vehicle 1.1 (GMV 1.1).
The vehicle has the potential to provide tactical mobility to Special Operations Warriors.
The GMV 1.1 is designed to be internally transportable via CH-47 Chinook helicopter as well as U.S. Air Force C–130 Hercules and C-17 Globemaster III heavy lift aircraft, and will be airdropped a total of six times.
It will support tactical operators in both urban and non-urban environments across the full spectrum of Special Operations Forces (SOF) military operations and terrain profiles.
Military Occupational Specialists 92R — parachute riggers — are proficient in the preparation and aerial delivery rigging of the myriad of special operations equipment.
One such "rigger," Spc. Arron Hlavacek of the 1st Battalion, 3rd Special Forces Group, along with Sgt. Jered Clifton with the 528th Special Troops Battalion, 528th Sustainment Brigade, are honing their skills as they participate in the GMV 1.1 aerial delivery test.
"Working on the GMV1.1 has been a great learning experience. During my time in the military I have worked primarily on packing and repairing personnel parachuting systems," Clifton said.
"The rigging of the GMV1.1 has given me an immediate appreciation of the work and challenges in rigging vehicles for Low Velocity Airdrop Deployment."
Sgt. 1st Class Juan Cruz, a Special Forces Weapons Sergeant, said operational testing of the GMV is about Soldiers, Airmen, and Marines.
"It's about making sure that the GMV 1.1 is effective and suitable for the environments that these highly trained Warfighters train and fight in," he said.
Aerial support for GMV 1.1 will be executed by U.S. Air Force or U.S. Naval/Marine aircraft. The initial airdrop of GMV 1.1 was conducted out of a Marine Corps C130J.
"This test truly is the conscience of the acquisition process," said Brett Womble, test manager for Project Manager Family of Special Operations Vehicles. "We simply want to get it right for our SOF users."
"We test and assess Army, Joint, and Multi-service airborne and airdrop related warfighting systems in realistic operational environments, using Soldiers to determine whether the systems are effective, suitable, and survivable," said Lt. Col. Greg Oquendo test division chief for ABNSOTD. "Every piece of equipment Soldiers use has been independently tested and evaluated to meet current and future Army needs and requirements.
"The GMV 1.1 will be become the standardized Special Operations combat vehicle with the operational flexibility to support the SOF core activities of Direct Action, Special Reconnaissance, Unconventional Warfare, and Counterinsurgency Operations."
~~
About the U.S. Army Operational Test Command:
The U.S. Army Operational Test Command is based at West Fort Hood (Now designated Fort Cavazos), Texas and its mission is about making sure that systems developed are effective in a Soldier's hands and suitable for the environments in which Soldiers train and fight. Test units and their Soldiers provide feedback, by offering input to improve upon existing and future systems with which Soldiers will ultimately use to train and fight.
The Fort Bragg, N.C.-based ABNSOTD plans, executes, and reports on operational tests and field experiments of Airborne and Special Operations Forces equipment, procedures, aerial delivery and air transportation systems in order to provide key operational data for the continued development and fielding of doctrine, systems or equipment to the Warfighter.