Story by U.S. Army Sgt. Froylan Grimaldo
FORT HOOD (Now designated Fort Cavazos) – The 1st Cavalry Division and Fort Hood (Now designated Fort Cavazos) hosted Central Texas High School Junior Reserve Officer Training Corps members during the JROTC skills meet, at Fort Hood (Now designated Fort Cavazos), Texas on March 25. The meet gives cadets from different branches of service the opportunity to experience an Army post and interact with the military community while being able to participate in a friendly drill competition.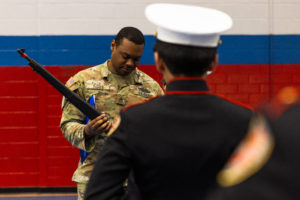 "JROTC skills meet is a great competition for these kids," Staff Sgt. William Tiggs, honor guard, non-commissioned officer in charge, 1st Cavalry Division, said. "We have different schools here, so we are experiencing different drilling ceremony techniques between the Navy, Marine Corps, and Army JROTC. I've seen some good stuff from these kids, and I think it is a good way to get it out to the public."
Consisting of multiple events including armed and unarmed drill team, an academic challenge, and male and female color guard, the meet allows cadets to represent their school and showcase the skills they have learned during their time in the JROTC program.
"The program is growing at Stony Point High School," Master Gunnery Sgt.(R), Ishmael Castillo, naval science instructor, Navy JROTC, said. "We're proud of it, it's doing great, and it is another morale booster for the kids to bring something home."
During the drill team event, students were evaluated on their professionalism and ability to execute military movement drills. They were also allowed to flex their creativity by putting on a show of their rifle skills during the drill exhibition phase. Showing no fear as the cadets spun their rifles.
"They do good in the execution of drill and ceremony and during the exhibition phase when it comes to manipulating the rifle as far as spins and tosses. Performance wise they're really knocking it out of the park as for my expectations," Tiggs said.
In a separate room, JROTC cadets were tested individually with a written examination followed by group jeopardy. The categories within the test ranged from current events and military history to SAT Math and English.
"What I've seen so far from the JROTC cadets, I thought they were really good for what their competition is for," Tiggs said.
As the day ended, the cadets waited in anticipation of the awards. One by one, the winners were announced for each event.
"Regardless of the results it is not over," Tiggs said. "There's always another competition. There's always another chance to go back to your school, train hard, and do better for the next competition. Once that next competition comes up, you're going to crush it."
Cheers and applause filled the gym as the JROTC cadets showed their support for each other. However, only one school could be the grand champion, and that title goes to Stony Point High School from Round Rock, Texas.
"The last drill meet of the year to go out as the Fort Hood (Now designated Fort Cavazos) 2023 Champs is just awesome," Castillo said. "They've worked hard all year. It's a good end of the school year for them and as the JROTC instructor I am so proud of them. I don't have the words for it right now."
JROTC cadets congratulated each other as friendly rivalries were made.
"Just keep training. Be confident in your movements. Be confident in your platoon and commands and you should be good to go for the next competition," Tiggs said.