By Maj. Vonnie Wright
https://www.dvidshub.net/news/410047/1st-air-cavalry-brigade-dismounts-netherlands-with-598th-transportation-brigade-and-16th-sustainment-brigade-ready-support
https://www.army.mil/article/252322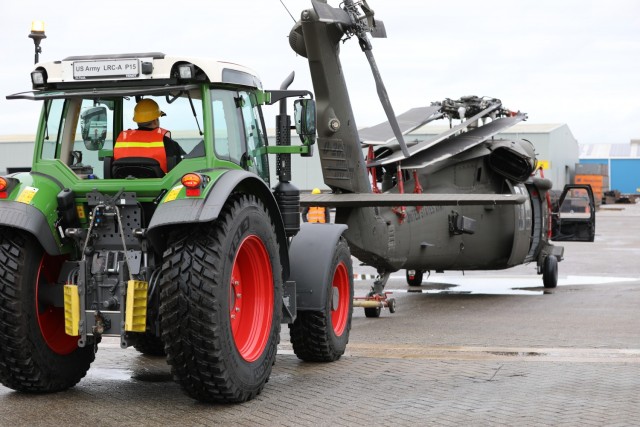 1st ACB tows their equipment off the Endurance Vessel in preparation to change it from travel mode to operational mode. Allowing it to be fully mission capable and ready to support in Operation Atlantic Resolve. 
VLISSINGEN, Netherlands – Aircraft and equipment from the 1st Air Cavalry Brigade, 1st Cavalry Division, arrived at the port in Vlissingen, Netherlands today as the unit began a nine-month deployment in support of Atlantic Resolve. Approximately 40 aircraft and more than 900 equipment items will be staged at the port facility in the coming days and prepared for onward movement to locations throughout the European theater. The equipment arrived aboard the commercial cargo vessel, ARC Endurance following its journey across the Atlantic from the port in Beaumont, Texas.
"The initial arrival of 1 ACB into Vlissingen is going extremely well," said COL Joshua D. Hirsch, Commander, 598th Transportation Brigade (SDDC). "We're executing the download of the vessel safely and on time. The port here is highly capable and we have an outstanding partnership with our allies in the Netherlands who provide a tremendous amount support for the operation."
In addition to Vlissingen, 1 ACB is also simultaneously deploying equipment into Europe through the port located in Alexandroupoli, Greece. In total, the BDE will bring approximately 85 aircraft consisting of 12 CH-47 Chinooks, 24 AH-64 Apaches, 34 UH-60 and 15 HH-60 Black Hawks to Europe for its deployment.
"The fact that we can bring a single brigade through two ports that are more than 2,600 kilometers apart demonstrates the incredible reach we now have, along with the proven ability to deploy Army combat power into ports located all across Europe," added Hirsch.
Notably, this is the first time an aviation combat brigade has deployed into the Vlissingen port. Moreover, the port will also support the re-deployment of the 1st Infantry Division, 1st Combat Aviation Brigade's equipment as it returns to the U.S.
"Vlissingen will be very busy over the next approximately 30 days as we move equipment into and out of the port," said, Capt, Jong Lee, company commander, 16th Sustainment Brigade, 21st Theater Sustainment Command. "When you add up what we're doing for both rotational units, our team is here to provide reception, staging and onward movement support for over 90 aircraft and approximately 2,000 total equipment items. It's a very big mission and a great opportunity to show what we can do to move Army forces across this theater."
After training for many months, the 1 ACB's soldiers were eager to begin their Atlantic Resolve deployment.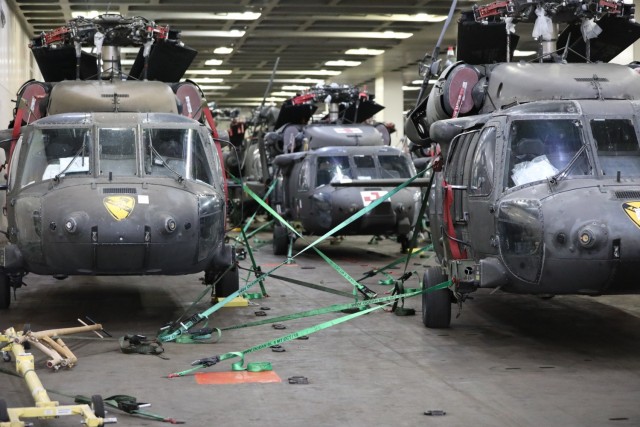 1st Air Calvary Brigade manually tow their helicopters off the Endurance Vessel after arriving at the Port in the Netherlands. Once off loaded they will be transition from travel to operational mode ready to support in Operation Atlantic Resolve. 
"We are glad to arrive after multiple months of planning and preparing," said Capt. Donald Criswell, brigade public affairs officer, 1st Air Cavalry Brigade, 1st Cavalry Division. "Our rotation to Europe will allow the 1st Air Cavalry Brigade to train alongside our allies and partners to develop, demonstrate, and improve our joint and multinational interoperability. We are stronger together with our allies and partners."
Since April 2014, U.S. Army Europe and Africa has led the Department of Defense's Atlantic Resolve land efforts by bringing units based in the U.S. to Europe. The 1st ACB is a ready, combat-capable force that will conduct extensive bilateral, joint and multilateral training throughout its nine-month deployment in order to increase the readiness and interoperability of allied and partner forces in Europe.
The ability to deploy an air cavalry brigade is a clear demonstration of the United States' strong and unremitting commitment to NATO and the security of the European theater. For more information about Atlantic Resolve, please visit the U.S. Army Europe and Africa website: https://www.europeafrica.army.mil/AtlanticResolve/
vonnie.l.wright2.mil@army.mil